To meet your organisation's confidential waste disposal and paper recycling requirements, Shredsec offers a comprehensive range of shredding services.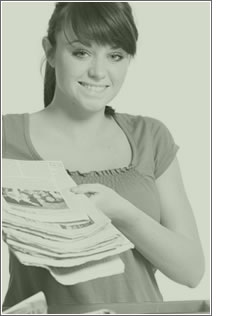 We endeavour to provide you with a complete solution that removes any risk from the data destruction process and enables your organisation to comply with Data Protection legislation in its disposal of confidential documents. You can use us to collect materials that are no longer required from your premises and securely transport them to our document shredding facilities. All confidential shredding is carried out within 24 hours and we recycle all the waste paper into new paper products.
Secure Shredding Services
Shredsec works to BS EN 15713 Code of Practice for the Secure Destruction of Confidential Materials.  Our industry-leading secure shredding services are designed to offer you:
Peace Of Mind
Your material will be handled by vetted staff using sophisticated shredding machines which are operated from secure vehicles and premises.  You will not have to worry about your data being compromised at any stage of the process.
Audit Trail
Employing Shredsec's secure shredding services means you will have an auditable trail that proves where your material has been and who has handled it.
Competitive Pricing
Our refined operational techniques and state-of-the-art shredding equipment means we are able to offer some of the most competitively priced shredding services in the industry.
Trial Us First
We offer a three month trial in all our regular contracts so that you can test our services.  Every customer who has started a trial with us gone on to take out a contract for our paper shredding services.
On-Demand Shredding
If you feel that a contract would be unnecessary, we provide a one-off shredding service that just requires a single payment after your material has been collected.
Dedicated Customer Care
We endeavour to provide you with the highest standards of customer care at every stage of the shredding process. Our staff are specially picked for their friendliness and professionalism, and we have a small management team that is able to respond quickly to any of your confidential shredding requirements.
Recycling Paper
Your organisation's green credentials can be enhanced in the knowledge that all your shredded paper is recycled to make new paper or cardboard products.
Contact Shredsec to discuss your shredding services.